Welcome to thatlinuxbox.com Wednesday, September 27 2023 @ 02:16 PM UTC
Don't trash your Torch router just yet
Friday, August 11 2017 @ 10:57 PM UTC
Contributed by: Dan Stoner
Views: 18,065

The Torch router was a Kickstarter project that was successfully funded and shipped product but the company failed shortly afterwards. Closed. Out of business.
"Torch. A simple router for digital parenting."
https://www.kickstarter.com/projects/...-parenting
I was apparently not a backer but bought the product through their store so I am unable to leave a comment on Kickstarter (backers only). Maybe a backer will find this blog and post a comment on Kickstarter for the rest of the unfortunate customers.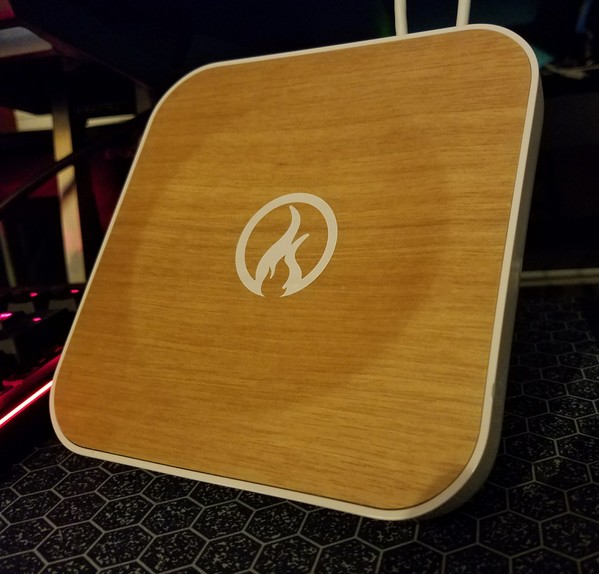 This Torch router apparently depended on having access to the Torch cloud services which have been shutdown.
https://www.pcwrt.com/2017/06/the-tor...-is-better
This all happened before I even had a chance to turn mine on for the first time.
However, thanks to the fine folks at pcWRT, I was able to flash a new ROM onto the Torch and I now have a working router!
I just followed the basic steps in their quick flashing guide:
https://www.pcwrt.com/2017/08/how-to-...ith-pcwrt/
That quick guide worked just fine for me, although I had a little difficulty getting tftp to work on my Ubuntu Linux machine. Pro Tip: don't try to use the "tftp" command-line program. Second Pro Tip: plug the computer into the LAN port on the router (as pictured in the above guide), not the Internet port.
I set the computer to have IP address of 192.168.99.8 since this is the hard-coded address where the Torch will look for a tftp image file.
I watched the traffic in tcpdump and confirmed that the router (192.168.99.9) was trying to acquire a file via tftp.
In the end, all I had to do was install the "atftpd" package and drop the factoryTorch.bin file into the /srv/tftp/ directory. No service / daemon configuration required on Ubuntu. The router immediately updated and rebooted shortly thereafter.
Finally, I followed the initial setup guide for pcWRT:
https://www.pcwrt.com/forums/topic/ro...ial-setup/
This ROM doesn't include pcWRT's fancy parental controls, but it does mean the Torch can be made into a basic functioning router.
Great job to the pcWRT team and thank you for releasing this work to the public!