Welcome to thatlinuxbox.com Friday, March 24 2023 @ 05:09 PM UTC
Five Points of Life Marathon 2015 - BQ!
Thursday, April 16 2015 @ 12:29 AM UTC
Contributed by: Dan Stoner
Views: 8,453

Photo via Five Points of Life (Facebook)
In February I finished my third marathon, the Five Points of Life Marathon 2015. Here's all of the good stuff... Official finish time was a BQ of 3:12:50 (should meet the 2016 Boston Marathon qualifying standards), Masters Winner, PR by over 13 minutes, top-10 overall, and just a few places out of the overall cash prizes.
I had 3 possible marathon goals going into the race, in increasing level of difficulty (always have multiple race goals says John Davis):
1. run a PR (my previous personal best was 3:26:14)
2. run a BQ time (under 3:15 for the 40 - 44 age group)
3. break 3 hours
I am glad that I was able to hit my intermediate goal. I don't think I would have done this without the last 6 miles of pacing from Matthew Howland (thank you sir!). I started getting some cramping in my hamstrings a little before mile 20 where Matthew started running with me. At around mile 22 I was handed a Strawberry Banana gel that tasted amazing and shortly after that the cramping subsided. I never got my pace back down but I was able to keep moving and finish the race.
I was definitely in the best shape of my life going into the race, but wow, the marathon is a beast! Muscle cramps are frustrating since it isn't a matter of mentally "pushing through the pain". The pace calculators / projections say that I can get under the 3-hour mark based on
my 1:23:40 Half Marathon
, it is just a matter of putting in the training (more miles!), avoiding the muscle cramps, and bringing it all together in a race. I'm pretty happy I was able to run the time I did averaging around 40 miles per week.
I plotted my mile splits (some are estimated) and the following graph definitely looks different than my
first marathon attempt
where I had severe muscle cramping: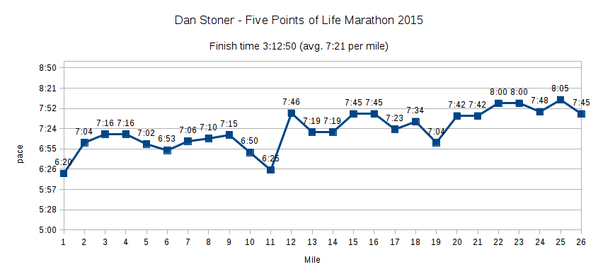 It will be a while before I contemplate another marathon attempt. It is time to run short and fast for a while.
BB Action Photo was on the course and took some great photos.
During the first mile near the 34th Street painted wall:
Photo by BB Action Photo
I ran with some half marathon runners targeting 1:30 to help keep me on pace during the first half of the race:
Photo by BB Action Photo
Finish!
Photo by BB Action Photo
Awards!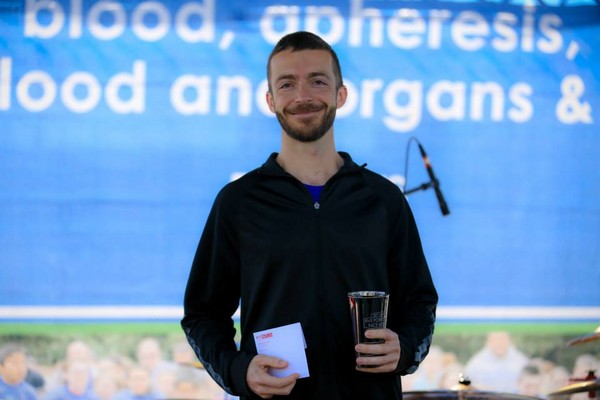 Photo by BB Action Photo
A few more details on fueling for anyone still reading...
I tried to run the race without consuming any gels or sugar since that is how I always train. I ate an EPIC Bison bar just before race start and another at around the half marathon point. I love EPIC Bison for my long runs (20+) and I especially like that they don't give me "the burps" like some foods do. However, I don't think I was sufficiently "fat adapted" to pursue this strategy. I had finally managed to get myself down to "racing weight" last fall, but in the months leading up to the marathon I put a few pounds back on, a sure sign that I was not maintaining my optimal diet and eating too many carbs.
Five Points of Life Marathon was held on February 14, 2015 with Results posted here:
http://results.drcsports.com/raceFile...olfmov.htm
Photo of the t-shirt, awards, and Altra 3-Sum shoes: