Welcome to thatlinuxbox.com Friday, December 01 2023 @ 03:39 PM UTC
Gainesville Free Track Meet Series - Summer 2014
Saturday, June 28 2014 @ 03:34 PM UTC
Contributed by: Dan Stoner
Views: 3,317

Update 7/2/2014: The information below has been up dated with the latest info provided and includes minor schedule changes for the July 3 meet
The Gainesville, Florida track community is offering a series of Free Summer Track Meets at Fred Cone Park. I have attended the first two meets. It has been a lot of fun with plenty of different ages and performance levels. It is great seeing the kids out there. The electronic timing is appreciated. Thank you Gaine sville and everyone involved who have put in the hard work to make this event happen.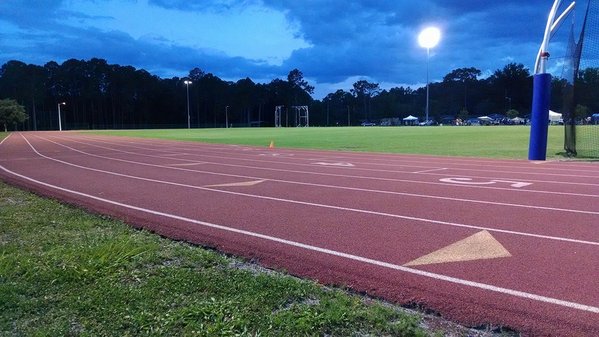 Come on out and have fun under the lights!
When: Thursday nights on June 5th, June 19th, July 3rd, and July 17th
Location: Fred Cone Park - East Unive rsity Ave, Gainesville, FL 32641 (Google Map)
The MS Word document provided by Coach Larry Holsey for the July 3 m eet is available here: https://db.tt/lAoKjhRF
I have reproduced the content and schedule below for convenience (as in, I'm not official, I am just sharing the info rmation I have been given)...
About:
No registration required, just show up at the starting line and run.
Electronic Timing by Half Mile Timing.
Participation Ribbons given to kids at the end of meet
Concession Available
The meet follows a rolling schedule (one event immediately after the other) with the following event start time estimates:
Running Events
6:40pm
200 meter hurdles
All Ages
6:45pm
50 meters
All Ages
7:00pm
800 meters
All Ages
7:10pm
40 Yard Dash
All Ages
7:30pm
300 meters
All Ages
7:45pm
Community Walk
10-minute community walk
8:00pm
4x100m Fun Relays
Parents / Coaches / Kids / All Ages
8:20pm
1500 meters
8 and up
8:30pm
100 meters
All Ages Competition - Bring it on
8:50pm
200 meters
All Ages
9:00pm
3000 meters
All Ages
Field Events
6:30pm
Long Jump
8 and Up (Two Jumps)
6:30pm
Shot Put
All Ages (Bring your own implement)
For More Information and Sponsorship Help:
Larry Holsey, 352-281-2630
The Gainesville Striders Track Club
http://gainesvillestriders.org
or
V12 Athletic
Daniel Medley