Welcome to thatlinuxbox.com Wednesday, September 27 2023 @ 03:24 PM UTC
Gainesville Summer Track Meet Series 2015
Tuesday, June 02 2015 @ 12:14 PM UTC
Contributed by: Dan Stoner
Views: 3,048

The 2015 Gainesville 2nd Annual Summer All Comer Track Meets are coming soon! On Thursday Evenings June 11th, June 18th and July 2nd, Cone Park Track will be host to track and field events for children and adults of all ages.
The cost this year will be $1 per person to offset the cost of the Timing and Starter.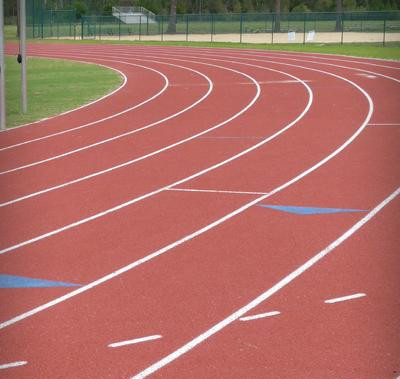 Photo via visitgainesville.com
Questions?
Contact: Coach Larry Holsey of the Gainesville Striders track and field organization
Dates: June 11th - June 18th- July 2nd (Thursday Evenings)
Time: 6:00pm 9:00pm
Cost: $1.00 Everyone to Register at Meet
Location: Fred Cone Park - East University Ave, Gainesville, FL 32641 (Google Map)
The MS Word document provided by Coach Larry Holsey is available for download here: https://db.tt/3mpBQ3HW
I have reproduced the content and schedule below for convenience (as in, I'm not official, I am just sharing the information I have been given)...
Events include Long Jump, Shot put, Mini-Javelin, 100m, 200m, 400m, 1500m, 3000m, as well as a Jogger's / Walker's Community Mile to kick start each meet.
Running events
6:00pm Jogger's / Walkers Healthy Mile to kick Start the Meet 
6:30pm 300meters - 7 and above invited - Males and Females
6:45pm 1500meters - All Ages invited - Males and Females
7:00pm 100meters - All Ages invited - Males and Females
7:45pm 50meters - 6 and under invited - Males and Females - kids receives a ribbon
8:00pm Coaches Relay - 100, 100, 200, 400 
8:20pm 200meters - 7 and above invited - Males and Females
8:30pm 200m Hurdles - 13-14 - Males and Females
8:40pm 3,000 meters - All Ages invited - Males and Females
Field Events
June 11th - Long Jump (11 years under) - Mini Javelin - Shot Put (All Ages)
June 18th - Long Jump (12 years above) - Mini Javelin - Shot Put (All Ages)
July 2nd - TBA