Welcome to thatlinuxbox.com Wednesday, September 27 2023 @ 02:46 PM UTC
John Holmes 50k Trail Run 2013 - Race Report
Saturday, October 19 2013 @ 11:53 AM UTC
Contributed by: Dan Stoner
Views: 9,396

I finished my first 50k race,
The John Holmes 50k Trail Run
.
Photo via
http://www.jimbodoh.com
If it hadn't been pitch black prior to the 7 am race start, this is the sign that would have greeted me at the Tucker Hill Trailhead of the
The Croom Tract at Withlacoochee State Forest
.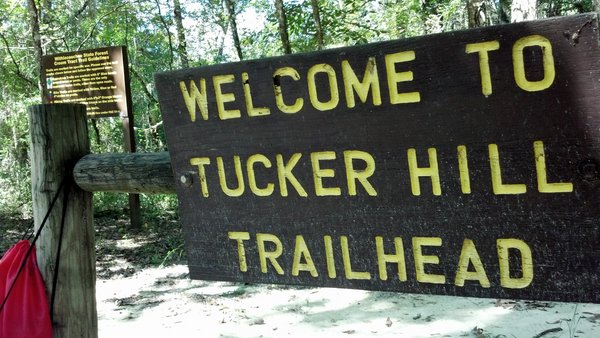 The 50k course is essentially four 7.5 mile loops with a little tacked on at the beginning and at the end. Runners are allowed to leave a drop bag at the aid station nearest the start/finish area. I planned to run the first loop of the course without my handheld water bottles or gel flasks. I did carry my ziploc bag of dried dates from the beginning. I guzzled half a bottled water just before the race start.
The race began at the crack of dawn, we ran down the limerock road for a bit before turning left onto a forest road. This gave the field ample opportunity to spread out. I had analyzed the race results from previous years and wanted to be somewhere under 10th place when we hit the single track trail. By the time we turned onto the first section of single track I felt like I was on planned pace with a nice pack of runners. The sky was still quite dim when we entered this section and I was just a little nervous about getting off the trail. It did not take long for the sunrise proper to lighten the sky.
Since I didn't carry my handhelds for the first loop I lost some ground at the aid stations while drinking from the little cups. But the weather was cool and I wasn't sweating very much so I was glad not to have that weight in my hands for all 31 miles. I munched on some dried dates and did my best to keep "running easy" and not get into a heavy breathing zone. I met a woman named Jenny who knew some Gainesville area runners. We chatted to pass the time. There was one runner who kept surging past us and then we would pass him. This happened multiple times. It seemed like strange behavior to me since huffing and puffing so early in a 50k doesn't sound like a great plan. At some point I lost track of that guy and have no idea how he finished. The first lap was otherwise fairly uneventful.
As we finished the 1st lap we hit the traffic of the incoming 16-mile fun runners. I'm wondering if it might be good strategy to run the first loop just a bit faster in order to beat the rush. There was a pretty big log jam at the next aid station. Luckily, I didn't need to get in line for water. I quickly found my drop bag, retrieved my gel flasks and handheld water bottles, and exited the area as quickly as I could. The traffic continued to slow me down a little for the next few miles, but that might have been a good thing since there was still so much race left. I completely lost track of my original pack of runners, assuming they were ahead of me. I found it convenient to pass large groups of runners on some of the inclines. Everyone was pleasant enough and when I called to pass, many of the other runners gave encouraging words. Eventually the traffic thinned out and I settled into a pace for the long haul. I had my one and only potty stop (pee break off the trail) during this 2nd loop. The course has quite a few hills and I was very glad to have done all of that hill training and stadium stairs over the last few months. I was very conscious not to push the hills and drive up my heart rate.
Into the 3rd loop I was running mostly alone. This was probably the hardest part of the race mentally. As the sun climbed into the sky and the temperature jumped 20 degrees, perceived effort increased dramatically. I traded places a few times with a runner named Jim who I didn't really talk to until after the race but found out later that he also knew some Gainesville runners. Small world.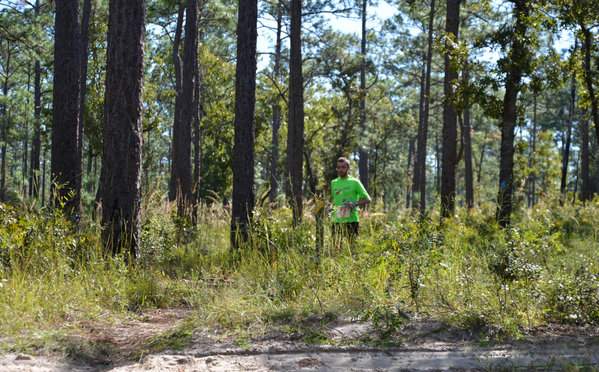 Photo via
http://www.jimbodoh.com
By the 4th lap the heat was starting to get to me and I felt like my legs were on the verge of cramping. The aid stations had cold water which I used to refill my bottles and then could squirt on my head and neck and keep myself cool. This is one of the great benefits of carrying handhelds with plain water. I knew that a lot of the other runners were not carrying as much water and maybe I could pick up another place or two due to the rising temperatures. I reminded myself of my heat training, training mileage, and that I could finish this thing! Once I got cooled down the cramping subsided. What I really noticed about the 4th lap is that I spent much less time at the aid stations than some people. I got into the groove of getting my water bottles filled, chugging a gatorade cup, and getting the heck out. I picked up 2 or 3 places during that last loop.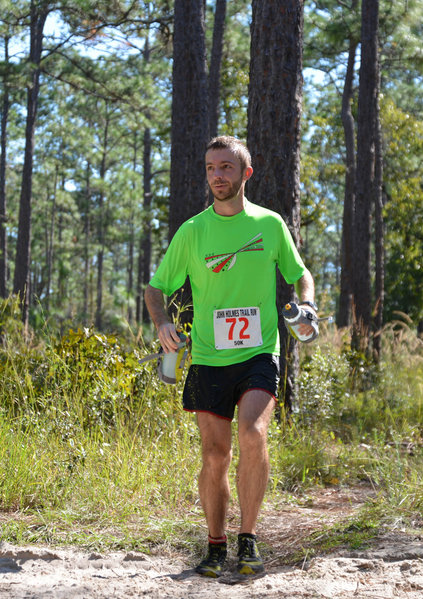 Photo via
http://www.jimbodoh.com
In the race excitement and traffic I forgot to get lap times for the first two 7.5 mile loops. The third and fourth lap times were 1:07 and 1:11. The first loop was probably quicker due to my running with a pack. The second lap was probably slower due to traffic.
I did not realize this until after the race, but some of the course is actually part of the
Florida Trail
. Way cool! This final quarter mile of the course is an uphill, rooty, gnarly section.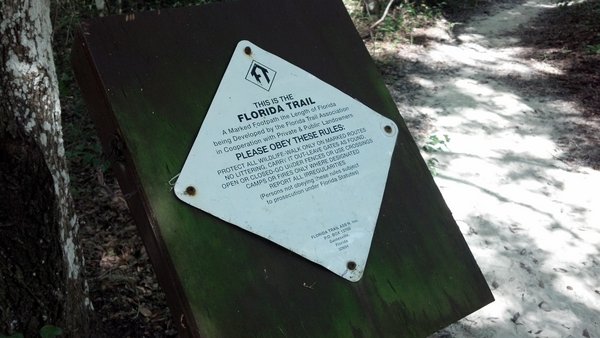 Out of 81 starters, I was 4th overall, won my age group (30-39) and had a finish time of 4:40:31 (average 9:02 per mile). I feel very satisfied.
Race director Jim Bodoh likes to give awards that have some use and won't just go onto a shelf or into a box. This year's award was a duffel bag embroidered with the name of the award. Here is a picture of the race t-shirt and my age group award, along with my New Balance MT00 trail shoes.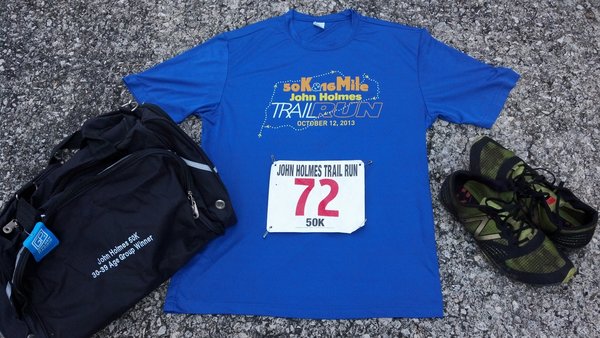 Now some details for the real runnerds out there...
Here is what my gear assemblage looked like the night before the race: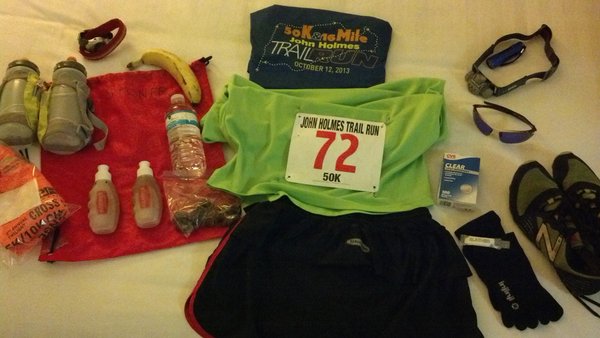 Morning of race breakfast:
- coffee
- whole fat yogurt (Yo Baby by Stonyfield)
- banana (30 minutes before race start)
Bodily protection options:
- Skin Strong Slather Anti-Chafing Creme (inner thighs)
- Round "spots" bandaids (nipple protection)
Drop bag contents:
- Two Nathan handheld water bottles (used after the first loop)
- Two Hammer Gel flasks (used after the first loop)
- One generic bottled spring water (just in case of aid station issues)
- In a large zip-lock, a dry t-shirt and extra nipple bandaids (did not need to use)
Clothing and footwear:
- RaceReady shorts with pockets
- Brooks tech T-shirt (my testing showed that this never chafed)
- Injinji toe socks
- New Balance Minimus Trail Zero MT00 shoes
Accessories:
- sports watch with lap timer
- Road ID
In-race fuel:
- Hammer Gel (slightly diluted with water), half with caffeine, half without
- Dried dates (kept in a ziploc bag, carried in shorts back pocket)
- Gatorade at some of the aid stations
A number of people have asked me how training for an Ultramarathon differs from marathon training. My Ultra training was basically increase the volume and make the long runs longer. After a hard summer of training that included a lot of track work, I was ready to take some time off from speed anyway. Starting in late August I eliminated most of the speedwork and used that weekly block of time in my schedule to get in more miles.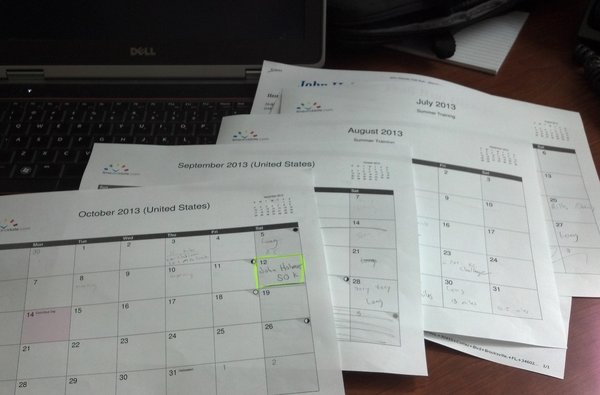 I use
dailymile
as my training log. I decided also to use printed calendars to plan out my long runs. My longest training week was over 70 miles. My longest individual training run was around 30 miles a couple of weeks before the race. I did as much training on trails as possible with my very long runs at
San Felasco Hammock Preserve State Park
. I had run the John Holmes 16 mile Fun Run a few times before so I knew that the race course was similar to the trails in San Felasco.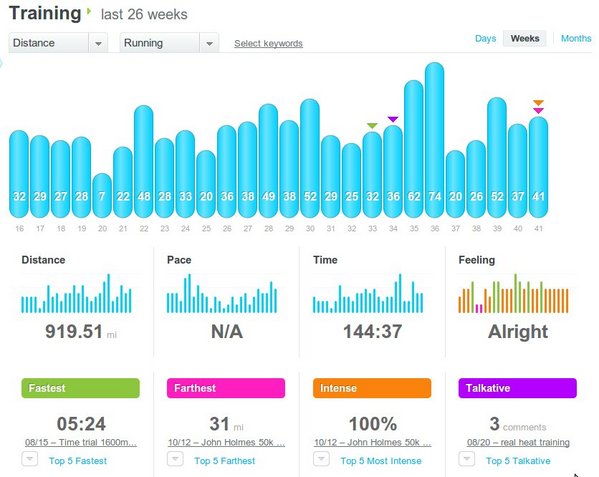 I do most of my morning runs fasted (no breakfast, sometimes black coffee). Prior to the race though I included testing of various breakfast options and tried to train my body to be ok running with food in my belly. I tested my fueling strategy and all of the gear, clothing, socks and shoes that I intended to wear for the race.
During my training I settled on Injinji socks and New Balance MT00 trails shoes for the race because I had tested this combination over many trail miles and never had any blister issues. Despite that preparation, I developed a bad blister during the race on one of my pinky toes. I'm not exactly sure why things were different during the race, except maybe that the Croom trails were a bit more "slippery" than San Felasco due to the sand being very dry. The race course had various flavors of sand but actually less deep sugar sand than San Felasco's hiking trails. I think the fact that my 50k race pace was faster than my long trail training runs may have contributed to the blister.
So what comes next? I am planning to run the Tom Walker Memorial Half Marathon in November and maybe I'll be ready for another marathon during this winter racing season.
The John Holmes Trail Run took place on Oct 12th, 2013. Race Results are posted:
http://www.johnholmestrailrun.com/201...esults.htm