Welcome to thatlinuxbox.com Wednesday, September 27 2023 @ 03:18 PM UTC
Kano Computer Kit - Great for Kids
Friday, October 03 2014 @ 11:55 PM UTC
Contributed by: Dan Stoner
Views: 4,747

Last week I received our Kano Computer Kit, the "computer anyone can make". I have not backed very many Kickstarter projects and I am just so happy that this one made it. The result is a fully-polished, professional quality computer kit... for kids.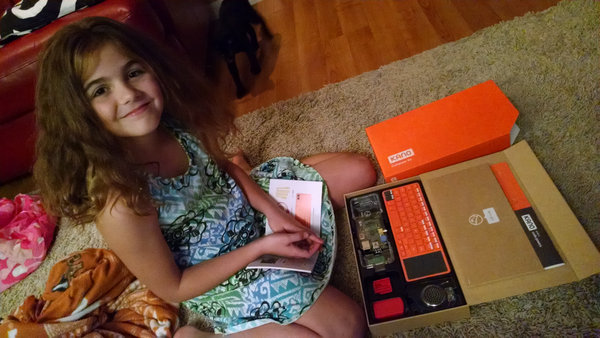 My daughter (10 years old, 5th grade) said over and over again "this is so much fun!" On the first day she spent about 4 hours playing around with the various coding environments. In particular, she liked the "Make Pong" environment where she worked through the exercises and made all kinds of interesting variations on the game (changing the ball size and color and the actions that happened when the ball hit the paddles).
The initial unboxing, assembling, and software setup of the Kano was straightforward and I only had to give my daughter a tiny bit of guidance here and there. For example, it took some care to get the Raspberry Pi board out of its safe and secure packaging. But for the most part, she read the guide and read the screen and followed the instructions and enjoyed the whole experience.
Follow the white rabbit...
(The setup includes a cute sequence of an animated ASCII art rabbit.)
The process was kind of nostalgic for me. The pong game reminded me of the Pong console game we received one Christmas when I was a kid. I remember the few times in my childhood when my dad brought home a new computer and unboxed it and hooked it up to the TV and we all spent hours fooling around with it. In fact, I almost think my dad (now a grandpa who pretends not to know anything about computers) would enjoy having a Kano to play with.
Team Kano received $1.5 million in their Kickstarter campaign, compared to their original goal of $100,000. One of the backer perks is that my name is included in the Credits file that is shipped out to the world on each little Kano computer.
https://www.kickstarter.com/projects/...e-can-make
For more info or to order a Kano Computer Kit for yourself, visit the 
Kano Computer Kit
web site.