Welcome to thatlinuxbox.com Sunday, June 04 2023 @ 03:11 PM UTC
Laptop Screen Height and Remote Work
Wednesday, March 25 2020 @ 12:31 AM UTC
Contributed by: Dan Stoner
Views: 2,048

I prefer a standing desk. With the COVID-19 work from home orders causing me to become a full-time Remote worker, my home desk area setup is much more important than it was before.
I know some people who stand up at a table or breakfast bar and use their laptops, but that is a terrible neck angle for long periods of time.
If your laptop will open to 180 degrees, then the following configuration with an external keyboard and mouse may help the screen position considerably: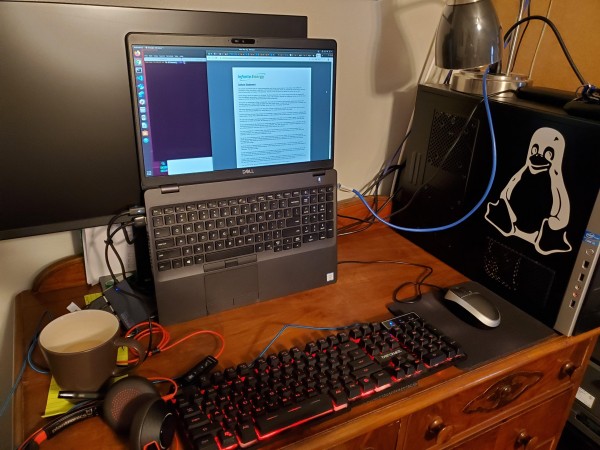 Otherwise, I suggest a laptop stand such as this one from 1home:
https://www.amazon.com/gp/product/B077JZSBS2
which works very well compared to some others I have tried.
Here I am using it in combination with my Ergotron WorkFit sit-stand workstation: