Welcome to thatlinuxbox.com Thursday, November 30 2023 @ 07:48 PM UTC
Robust Trail Shoes for the Minimalist-Minded, 2015 edition
Sunday, March 15 2015 @ 01:52 PM UTC
Contributed by: Dan Stoner
Views: 4,317

I have been looking for a more robust trail shoe to handle a 40- or 50-mile Ultra over rugged terrain (think Mohican 50 in Ohio or Highlands Sky 40 in West Virginia or maybe Pine Mountain 40 in GA). I am hoping for more protection from rocks underneath and from kicking roots with my toes. My NB Minimus MT00 are great shoes but some terrain wants a little more shoe.
I am not considering shoes with elevated heels and prefer to stick with zero drop shoes only. Elevated heels lead me to knee pain so I just stay away from them.
A friend gave me a used pair of The Lone Peak 1.5 shoes (the bright red ones). Of the three versions of The Lone Peak, I think I like the 1.5 best. It falls into the pile of Altra shoes that have a firm cushion rather than a soft pillowy ride. The Lone Peak 1.5 is no longer in production, so it does not make the list of shoes I could buy today (although I do still see them on ebay from time to time). I also tried the Altra Lone Peak 2.0 and it definitely feels more comfortable than the original Lone Peak but it didn't feel amazing so I sent it back.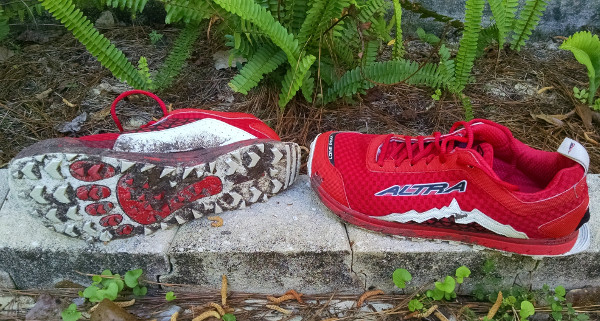 There are some other shoes I tried that won't work.
I have the Altra Olympus maximal cushion shoes but after some trial runs would never choose it for a technical trail race or on anything rugged due to traction issues and stack height.
I ruled out the Merrell Bare Access Trail because it felt just too constricted on my foot. I was a little sad because it really looked like a great shoe on paper and I have had good luck with other Merrells. I haven't seen any buzz about this shoe and there are only a few reviews online. For people whose feet fit well into Merrell's "bare" or "glove" lines, the Bare Access Trail *would* definitely be worth a look.
The New Balance Minimus v2 looked like a possibility with its bigger lugs but the photos and reviews online ruled that one out due to the terrible tight toebox. I really have no idea what New Balance was thinking with the Minimus v2.
As mentioned in
Pre-run Review of the Inov-8 Trailroc 150 Minimalist Trail Shoes
, there are possibly trail options from Vivobarefoot but no shoe that I have tried from that company has fit me correctly... the low cut around the ankle makes them impossible for me to secure to my foot. I am not sure if the latest models still have this issue but I haven't really even considered Vivobarefoot in recent months.
Above are the shoes that didn't make my list.
Here are my Top Three Robust Trail Shoes for the Minimalist-Minded, 2015 Edition: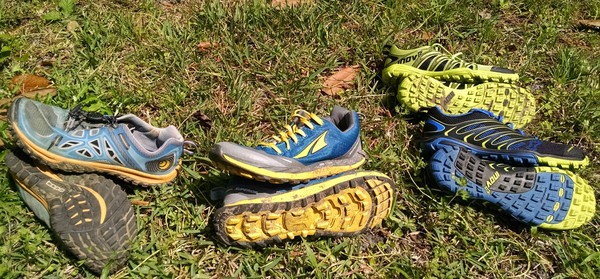 Keep reading for more details...
1. Topo Athletic Oterro - I received a pair of these as a gift from our local Topo ambassador and have already put in a bunch of miles on them. Topo Oterro is a great shoe! It is very comfortable and roomy. My only complaint is that it feels a tiny bit stiff through the sole. There is no rockplate but that stiffness contributes to plenty of protection from rocks and roots. Topo markets this shoe as a trekking or fastpacking shoe more than a running shoe but I think since many people walk during their Ultras this might make it an awesome Ultramarathon shoe. The Oterro comes in all black if anyone is looking for a "work sneaker". The Oterro is a great shoe for those doing mixed or all-day activities or who are not quite sure what the terrain will be when they head out on an excursion. If the Oterro had been just a bit lighter I would have stopped my search here.
2. Altra Superior 2.0 - Feels awesome out of the box. The toebox height feels restricted after inserting the removable rock plate thing. Without the plate they feel good and during my initial testing I have not needed it for protection from roots. In case you hadn't heard, this shoe won the Runner's World Editor's Choice award. It has the usual wide toebox found in all Altra shoes and much more significant lugs than the previous versions of the Superior. This shoe from Altra is a hit, but minimalist runners should be warned that the Superior 2.0 is definitely a cushioned shoe.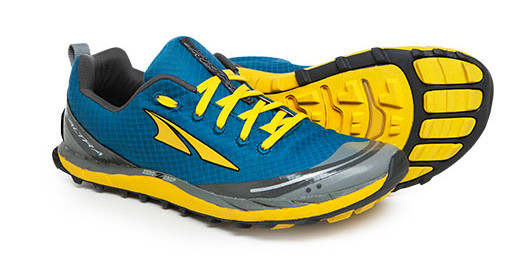 3. inov-8 Trailroc 235 - Out-of-the-box, my first run was 24 miles and they felt great. This is a fast-feeling shoe. It has a similar tread pattern to the Merrell Bare Access Trail but is more flexible and has better fit on my foot (the 235 uses the wider of the inov-8 lasts and has a flexible upper). The shoe feels very secure to the foot without feeling tight. The 235 is a lightweight shoe that provides considerable protection from rocks and roots. There is no soft cushion here so true minimalist runners have nothing to fear. This is the shoe I have been looking for. I provide some more detail on the 235 in
Pre-run Review of the Inov-8 Trailroc 150 Minimalist Trail Shoes
. If I had to choose a single trail shoe it would be the inov-8 Trailroc 235 since it is light enough to use for short distances and robust enough for the long haul.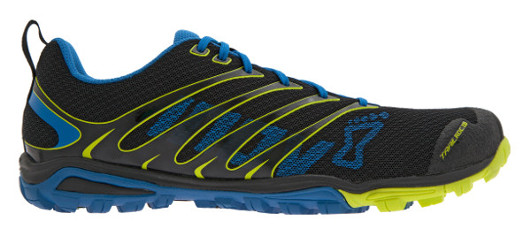 Knowing that shoes in this segment come and go and that the companies frequently make major changes that end up being misfeatures, I have already started stocking up on the Trailroc 235 which is my favorite out of the three. Now that I know my size in the Oterro and Superior I can snag a few extra pairs if I see them on closeout.