Welcome to thatlinuxbox.com Monday, August 08 2022 @ 01:04 PM UTC
Standing At Work
Wednesday, January 21 2015 @ 01:42 PM UTC
Contributed by: Dan Stoner
Views: 2,883

I have been standing pretty much full-time at work
since 2011
and I am still quite happy using my
Custom-Built Standing Workstation
in my
current job
.
I do have my laptop on the lower desk surface in case I need to sit down, such as after a particularly hard morning running workout. However, I tend to only sit down at meetings and meals during the work day.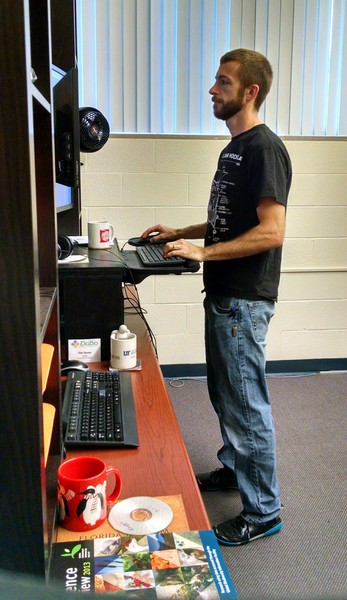 Today I was rocking my
Skora
shoes which are zero drop (no elevated heel) as are all of my shoes these days. I have no need for knee, hip, or back pain thank you very much.