Welcome to thatlinuxbox.com Friday, December 01 2023 @ 04:10 PM UTC
Tejas Trails Wild Hare 25k Trail Race - Race Report
Wednesday, December 24 2014 @ 01:03 PM UTC
Contributed by: Dan Stoner
Views: 9,838

We decided to go to Texas for Thanksgiving this year and while planning the trip I looked for area races. I was happy to find the
Tejas Trails Wild Hare 50mi / 50km / 25km / 10km
which takes place near Warda, Texas and was only about an hour from where we were going to be staying.
Since Wild Hare was happening one short week after
my peak race at the St. Augustine Half Marathon
, I decided to run the 25k distance. On this course, that would mean completing two 7.8 mile loops.
The morning of the race was cool but definitely not cold and had plenty of humidity.
I carried one water bottle and planned for this to be enough to get through 25k (15.5 miles) without needing to stop at any aid stations. I consumed no food or fuels during the run. That is how I train so that is how I race. I had been worried about the possibility of sharp rocks and considered wearing a heavier shoe, but it turns out that my New Balance Minimus Trail MT00 shoes did fine.
The Enduro Photo photographers were on the course and took a really great photo of me: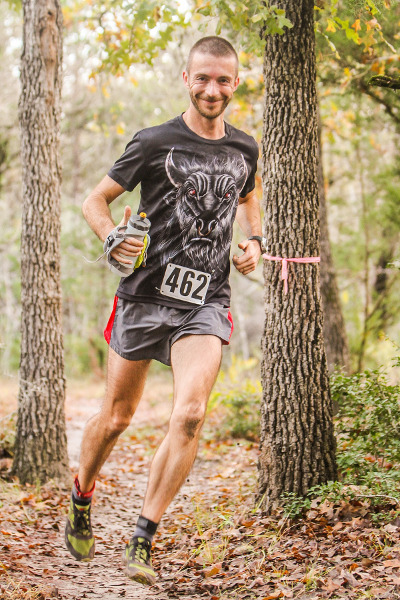 Photo by Enduro Photo.
The race started in a barn and ran along a gravel road for a short bit before turning onto a grassy section and a trip around a pond. This allowed the field to spread out before the tight twisty wooded single track began. A young girl ran ahead of me for the first mile, moving along really well in her Merrells. It was only after the race that I put it together that this had been none other than one of the Welsch sisters that I read about in the NY Times and various places on the Internet such as:
http://abriegrowsinbrooklyn.com/post/...her-welsch
The 12-year-old Heather Welsch finished top-15 in the 25k race, running under 2 hours 11 minutes. Her older sister Kaytlynn apparently won the 10k. Congrats to them both!
After the very very curvy section, there was another nice bit of open field and then down a wooded slippery descent into the back section of the course. I am so glad that they posted a sign at the top that said "ENTER SLOWLY" or I would have definitely taken a spill right over the edge on the first slippery drop. There were some concrete slabs with grooves carved into them for traction but since the grooves were filled with mud, they were just plain slick. During this section I ran "lightly" and had a few close calls but never actually fell. There was one very steep short hump I remember that had some carpet on it but since the carpet was coated with mud it was really really slippery. I came to a full stop and started to slide backwards, went down on one knee, and reached up towards the top, just barely grabbing the lip of the carpet to keep myself from sliding back down the hill. On the second lap I remembered this spot and stayed on the uphill side so I could grab a tree root and pull myself over the hump.
After the slippery downhills there was more trail along the edge of the pasture. Eventually I came to THE HILL. Long, straight, and completely made up of slick, sticky, mud. I did manage to keep running up this thing.
Towards the end of the first loop I came up behind the 2nd place runner and just ran with him for a bit. 2nd place would be a BIG DEAL for me so I started making plans. We came to the barn that is that start/finish/lap timing mat location. The runner ahead of me stopped to refill his water bottle so I seized the chance and bolted out of there. I got a little excited and pushed ahead on the pace for probably longer than I should have, moving quite quickly through the very twisty wooded single track section. There was a fair amount of traffic on the course to deal with for the rest of the race so I had to shout "passing" repeatedly. I never had any trouble getting around folks, everyone was nice about moving to the side.
With only a few miles to go, thinking I had 2nd place all locked up but starting to feel the effects of my hard pace during the early part of the 2nd loop, another runner sauntered up behind me. He was not out of breath and was fairly conversational. I tried to push a little to drop him. He said "don't worry, I'm not going to pass you." So I eased back and as we got closer to the finish line, I knew I didn't have any gas left in the tank. I told him to go ahead if he wanted it. I could tell he was clearly not exerting the same effort as me and totally deserved 2nd place. He glanced at his watch and took off, happy that he might finish under 2 hours.
I ended up 3rd overall with a finish time of 1:55:08.
The Race Director said that the course was more fun when it was dry. I actually found the slippery parts to be a lot of fun. They were definitely exciting, especially when I thought I was going to slip off the trail and right over the edge.
My award was a metal birdhouse shaped like an owl. The other races also had metal sculpture items as awards. The race finisher medals looked great, too: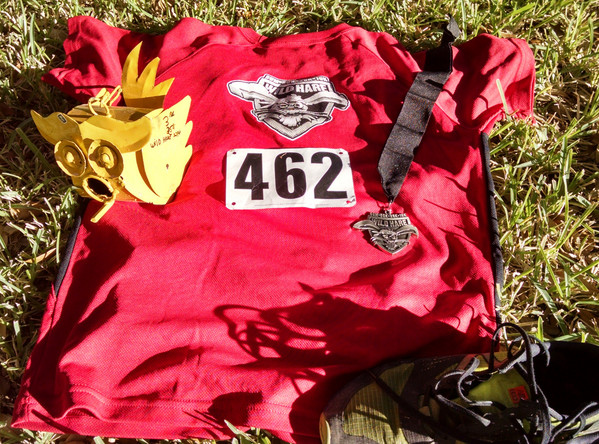 I escaped the area before the thunderstorms came through that day. From other race reports, it sounds like the day turned more into a real mud run.
Wild Hare was held on November 22, 2014. Race Results posted here:
http://tejastrails.com/docs/WildHare_res_2014.html