Welcome to thatlinuxbox.com Wednesday, September 27 2023 @ 02:18 PM UTC
Trail of Payne 10k 2023 and 2022
Thursday, March 30 2023 @ 12:28 AM UTC
Contributed by: Dan Stoner
Views: 211

Trail of Payne 10k 2023 aka last run of the New Balance Minimus MT00.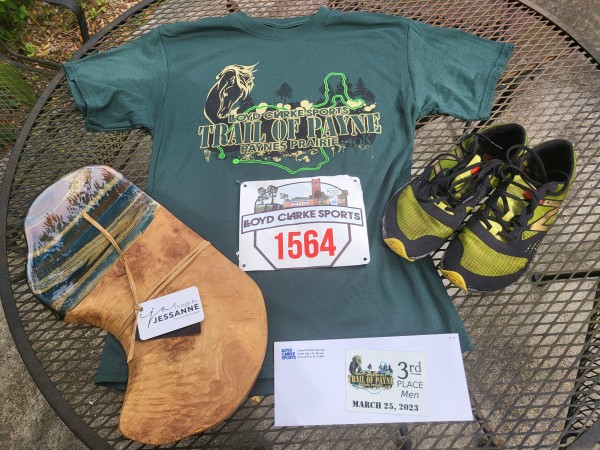 I used some Shoe Goo to make my old New Balnce Minimus shoes ready for race day. Those shoes have been great for this course because they drain so well and do very well on grass and less technical trails.
It was a warm and humid morning, not my favorite racing weather. I feel good about my effort and performance, 40:30 which was exactly 1 minute faster than the year before.
I was 3rd overall to earn this nice custom award (usable as a charcuterie or cutting board or just as a piece of art) and a gift certificate to
Lloyd Clarke Sports
: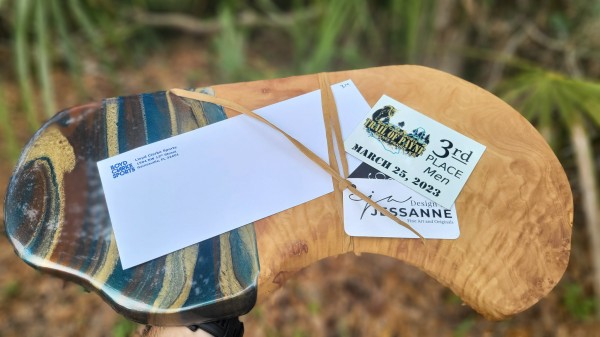 Results:
https://results.raceroster.com/v2/en-...XgcBPnrDtk
Strava:
https://www.strava.com/activities/8774456743
By the end of the race, the Minimus uppers had started to separate a bit and I figured that re-gluing every seam would detract a lot from the benefits of this shoe (light weight and flexible) and I just don't want to risk them falling apart during a race. I retired them.
I noticed that I had not blogged about the 2022 race. I think I didn't have a single photo. But it was a big year because I actually won the race!
Results:
https://results.raceroster.com/v2/en-...?subEvent=

Strava:
https://www.strava.com/activities/6885230338