Welcome to thatlinuxbox.com Saturday, May 08 2021 @ 03:29 AM UTC
WoBtoberfest 5k 2014 - Race Report
Thursday, October 02 2014 @ 11:57 PM UTC
Contributed by: Dan Stoner
Views: 2,750

Gainesville Running Tabs and World of Beer (Tioga) put on a nice little 5k for the Octoberfest season called WoBtoberfest.
Good times!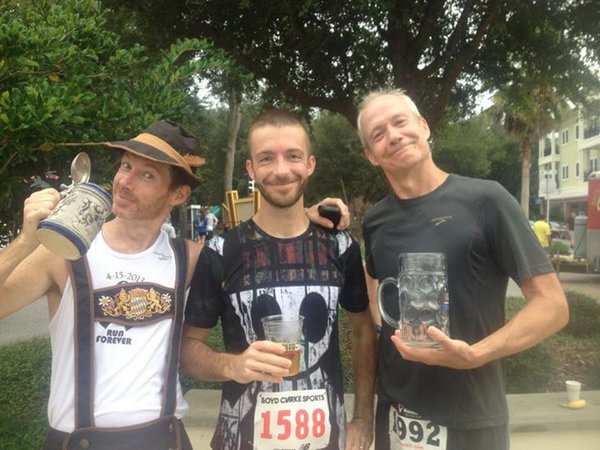 Pictured are Dan Clark, Dan Stoner, and John Davis. Photo by Colleen Anderson.
I was not able to catch Lederhosen Man Dan Clark in the final sprint: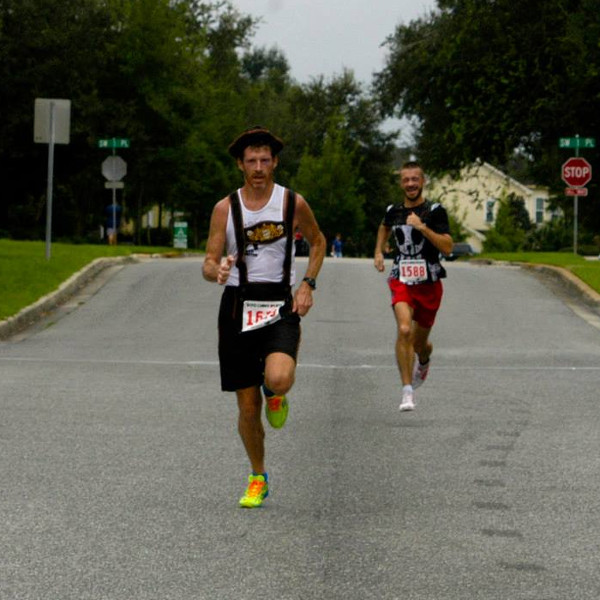 Photo by Julie Taylor.
I felt pretty good and was able to finish strong for a 2nd place finish. The photo above shows that my form still has some tweaking opportunities. I have not yet been able to completely solve that trailing leg dipping inward.
Here is the Video of the finish:
Race schwag included free beer and a really nice 
Swamp Head Brewery pint glass (pictured below):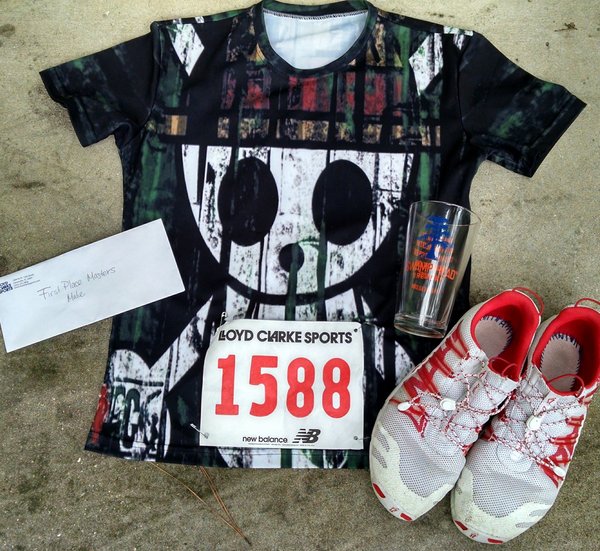 I finished with a time of 18:18.  I am happy with the 2nd place overall finish and even more happy to take home the Masters division win. There are a few good things about getting older.
This was my first race in Tioga. The course is very flat but has many turns as it weaves through the neighborhood. It seems like it would be very easy to lose contact with people if they got too far ahead. I ran this race without a stopwatch which helped me run by feel and focus on racing. I think this is one of the reasons I was able to stay within striking distance of the leader. In the past I have almost always raced wearing a watch in order to get my mile split times (good for post-race analysis). It was fun to race without worrying about the time.
My go-to road race shoe is still the Inov-8 Bare-X Lite 150. My white ones have over 200 miles on them now and are still in good shape.
Race results are posted:
https://runsignup.com/race/results/?raceId=10988
And here is one more picture of the First and Second place finishers, sometimes known as Team Dan: