Welcome to thatlinuxbox.com Friday, March 24 2023 @ 03:16 PM UTC
Inaugural Alachua Lake Half Marathon 2015
Tuesday, November 24 2015 @ 12:42 PM UTC
Contributed by: Dan Stoner
Views: 2,652

Last month I ran the Inaugural Alachua Lake Half Marathon which was another fine event directed by Bobby of
Lloyd Clarke Sports
.
After a low mileage summer (about a month and half of 20-30 mile weeks) that included a lot of
Stand-Up Paddleboarding (SUP)
instead of running, I have been trying to get my fitness back up. I definitely was not in top shape like last fall for the
St. Augustine Half
when I had already put in multiple 20 milers at this point.
At the race start we actually had a pretty large pack of runners (not including that speedster Dan Clark who quickly left us all behind). The first water stop was placed shortly after the first sharp turn on the bike path. I sped up to gain clear access to the water cups and since I gained some separation I pushed on a bit to see who would come with me.
Michael Farrell caught me and passed me and put some distance between us. At this point in the race I was being careful to keep my pace under control so I let Michael go at this point. 16-year old Jestyn Roberts caught up to me and we ended up running a huge portion of the race side-by-side.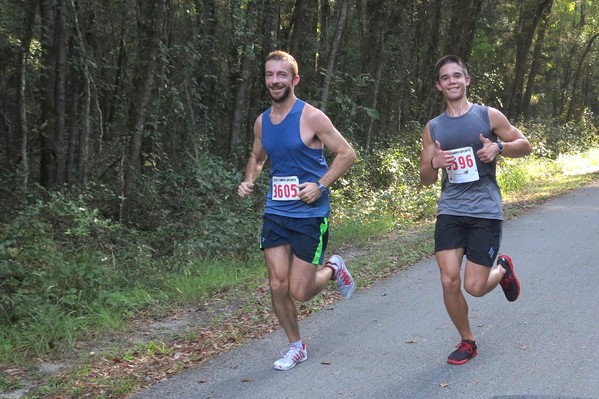 Photo by Dana Moser
I did my best to stay on a maintainable pace (just over 6:30 per mile) and Jestyn stayed right with me. I worked back up to Michael and hung there for a bit and then put some distance between us, again Jestyn moved back up beside me.
With less than 5k to go we entered the hilly section. I thought I detected some labored breathing so I pushed again trying to get some separation and go for a 2nd place finish. Jestyn caught back up and then kept right on going, passing me, and establishing separation that I was not able to cover. I kept pushing hard trying to get back to him but could not close the gap.
My splits were fastest over the last few miles despite the hills. Previous races on this course always showed a significant slowdown during that last hilly section so I am happy with that aspect.
Finish time was 1:25:51 (avg. 6:33 per mile) which is about all I could expect given the quality of my recent workouts.
I feel good about getting 3rd place overall and taking home a Masters win.
Here is a picture of a bunch of shirtless men with our awards: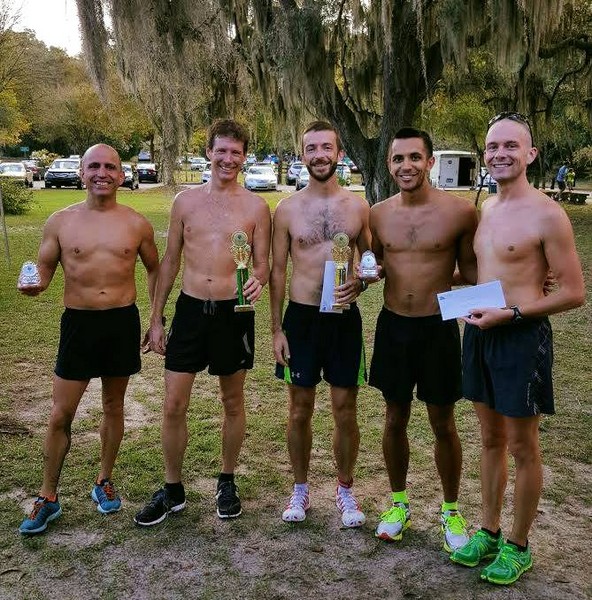 The 2015 Alachua Lake Half Marathon by
Lloyd Clarke Sports
was held on October 11, 2015, full results are available:
http://georesults.racemine.com/Start-...?preview=1
Here is a photo of my race t-shirt, Masters trophy, and gift certifcate.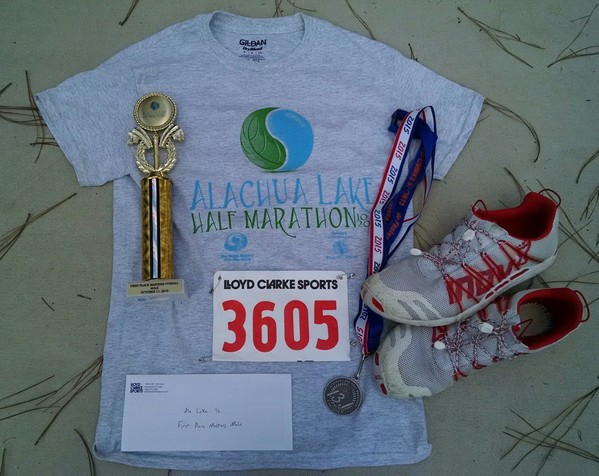 I raced in my Inov-8 Bare-X Lite 150 shoes as usual.