Welcome to thatlinuxbox.com Friday, December 01 2023 @ 04:07 PM UTC
Review - Salomon S-Lab Sense Ultra Set Hydration Vest
Tuesday, August 23 2016 @ 06:18 PM UTC
Contributed by: Dan Stoner
Views: 12,220

For the past few years I have used Nathan handheld bottles for my hydration needs. These have worked well, and carried me through
my first 50k
quite successfully a few years back. This summer has been especially brutal in Florida... high heat and lots of humidity, day after day, week after week. I have begun to think about running another Ultramarathon and thus started looking for ways to carry a little more water on my runs while training in the heat. Looking ahead, I might have a chance to run in the mountains this fall so I also wanted to be able to carry a little more gear with me if desired. This led me to investigate hydration vests and packs.
I am generally a minimalist runner and want to have the least amount of gear (and weight) possible.
Many runners are happy with their hydration packs and bladder systems. After asking around, there is a bit of care that needs to be taken with them to keep them clean and keep them from "growing stuff" in the drinking tube, etc. Most modern bladders seem to be fairly easy to refill (think moving through aid stations quickly), but overall it seems that bottles / flasks would be a little easier to deal with.
I did try on a few small bladder hydration packs at the local stores and they just didn't feel great to me.
Based on a number of favorable reviews and the fact that the vest was reported to be wearable shirtless, I purchased the
Salomon S-Lab Sense Ultra Set Hydration Vest
which comes with two soft flask bottles.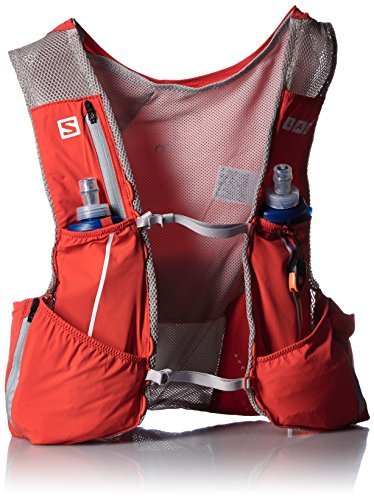 Image credit:
salomon.com
Image credit:
salomon.com
My first run with the vest was very short but I did test the pack running shirtless and felt confident enough to try shirtless on a longer run.
My second run with vest was on one of those hot humid Florida days where absolutely every single square millimeter on one's person becomes drenched with sweat from head-to-toe. I wore the vest shirtless for 13 miles. It was "fine" running shirtless but I did notice the roughness of the fabric a bit and was definitely more susceptible to hot spots when I wore the pack shirtless. However, it is nice having the shirtless option since this increases airflow across the midriff, chest, and lower back. After 13 miles I put on a compression shirt underneath and just felt "aaaahhhhhh" as the pack completely disappeared on my body. I stuck with the compression shirt underneath for the remainder of that run (21 miles total).
My third run was during an all-morning rain and I ran the entire way (20 miles) with an
Under Armour - Alter Ego compression shirt
underneath as seen here: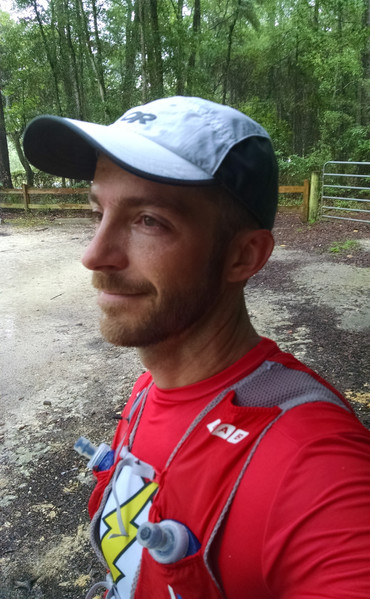 The Salomon vest combined with compression shirt is definitely my preferred setup for long trail runs.
The
running hat
pictured above is by Outdoor Research and has a nice feature of mesh across the top of the head that is a separate layer under the top of the cap.
One thing I didn't notice until after I looked at my photos is that the bottles, when completely empty and left hanging out of the pockets, gave me a "Fembot" look. Next time I will tuck the bottle tops back inside the pockets.
The chest straps are adjustable up and down by simply unlooping them and running them through a different set of eyelets. Similarly I was able to move the safety whistle to the opposite top pocket when I was trying different places for my smartphone.
I tried carrying my phone in a variety of places. My phone is on the small side (compared to most of the modern monstrosities that are currently available). At first I tried carrying it without any protective case. It did fit in the front upper zipper pocket, but it was very difficult to get in and out. Moving to the front pocket without the zipper was much better... except the added pressure caused a little rubbing on my collar bone when running shirtless. A very nice place for a phone is the lower side zipper pocket. If I weren't running in such soggy conditions that is probably my preferred location for stashing a phone with this particular vest. However, to save my phone from the humidity (and allow me to run in the rain), I have started using a
protective waterproof case by Outdoor Research
. The phone with OR case did fit in that same pocket but was just a bit bulky to get in and out.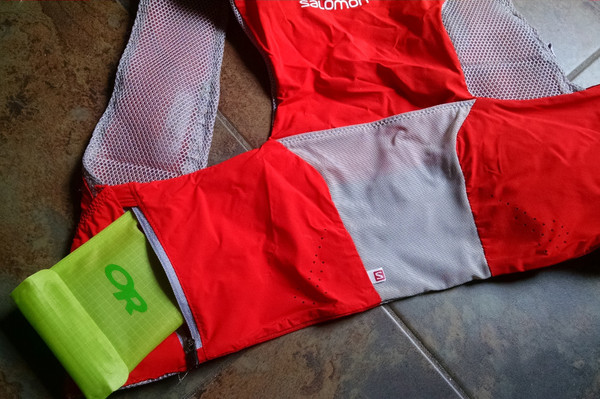 In the end, I put the phone (in case) in the lower center rear pocket and this seems to work great.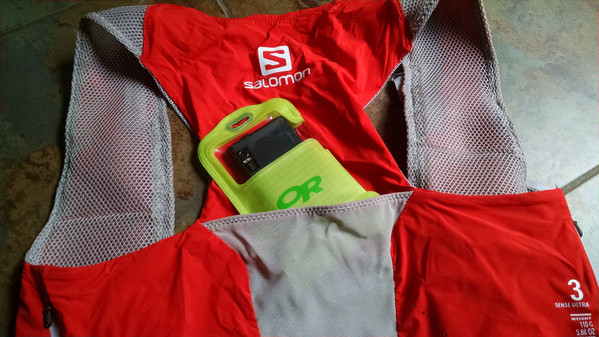 I put my car key in the upper front zipper pocket.
I keep an extra supply of individually-packaged
Skin Strong SLATHER
anti-chafing cream in the opposite front top pocket.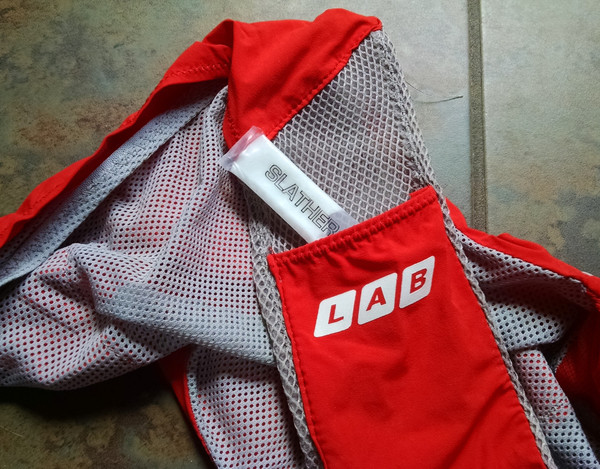 If you choose to run shirtless with this vest, I recommend taking the usual precautions against chafing... in particular the nipple area.
I have tried a number of different methods of nipple protection over the years. Cheap round bandaids from CVS or Walgreens would be great except the adhesive isn't strong enough to handle a long sweaty run. With a compression shirt, I am usually ok by just applying anti-chafing cream or body glide, usually repeated at least once during the run. My favorite product for this task though is
NipEAZE
nip protectors because they are pre-cut to the correct shape (saves time) and have a strong enough adhesive to handle a long sweaty run.
Long sweaty runs are definitely in the cards with the S-Lab Sense Ultra Set Hydration Vest.
Some other reviewers mentioned problems drinking from the soft bottle flasks. The bite valve was definitely new to me but didn't take very long to get used to it. In fact, I am able to suck water into my mouth while inhaling air in thru my nose. Another reviewer commented about difficulty getting things in and out of the pockets. I think one of the secrets to using the vest is to reach across the body with the opposite hand whenever trying to dig into a pocket. This takes a little mental effort to gain the habit but it makes it much easier to get down into all of the pockets. Similarly, I did not have difficulty getting the soft bottles into the bottle pockets... I pull the pocket open with the hand on the same side, then stuff it into the pocket with the opposite hand. Shaking the pocket helps and gravity pulls the flask right down into the pocket.
I have decided that soft flasks have a couple of benefits. First of all, they take up less and less space as they are emptied so the vest gets more and more comfortable. Once the air is out of the bottles (e.g. after first drink), they do not slosh. The soft flasks are easier to fill up in some situations. There is one drinking fountain at a distant water stop that has very little pressure. The soft flask can be stuffed and bent down under the flow of the water and be almost filled, whereas my older Nathan "round bottle" handheld can't get under the flow very well and I can only ever get half-full.
When I decide to go shirtless I still stash a compression shirt in the upper rear pocket.
That pocket is also a likely place for storing an outer shell, such as the
Mountain Hardware Ghost Lite shell
that folds up into its own pocket, or a longsleeve shirt, or whatever else might be appropriate.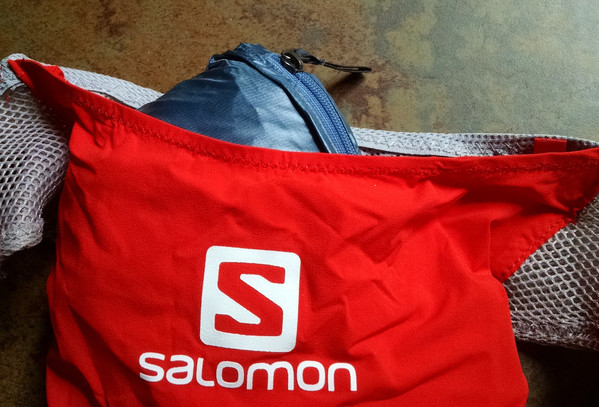 In situations where the two soft flasks do not hold enough water, this vest is light and small enough that adding a handheld or waist pack is still an option.
For example, I used the
Nathan Peak waist pack
which worked great. This goes well with the
Nathan SpeedMax Plus Handheld Flask
for the really long days out on the trail where the Sense Ultra vest might not provide quite enough water.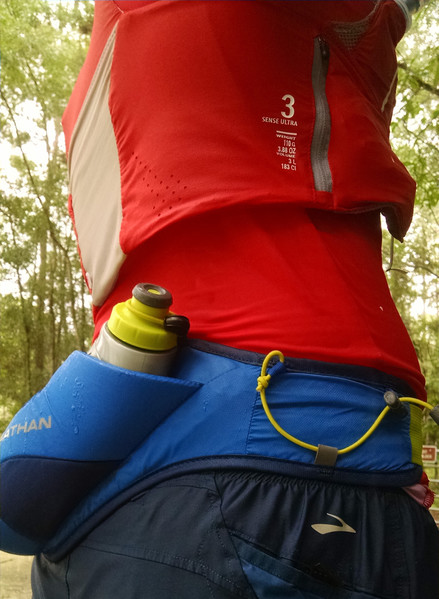 Despite the Salomon vest being quite small (my wife said I looked like Abu the monkey from Aladdin), it has a ton of pockets and storage options. In addition to the pockets mentioned above, the vest has two front "dump" pockets which I found to be good for carrying nutrition, gels, or other items (ziploc bag of cashews and dates).
All-in-all I am happy with my purchase. For the races and distances in which I tend to be interested (up to 50k), I don't see a need for a larger capacity or reservoir-based hydration system. The very lightweight Salomon S-Lab Sense Ultra Set Hydration Vest provides enough pockets and capacity to carry a nontrivial amount of gear, but isn't big or bulky so it is not a bother to wear frequently or for shorter runs.