Welcome to thatlinuxbox.com Sunday, June 04 2023 @ 01:33 PM UTC
Trail Running the Ohio Buckeye Trail, Hocking Hills
Monday, February 02 2015 @ 11:49 AM UTC
Contributed by: Dan Stoner
Views: 5,044

I have started a personal tradition to go on a long trail run whenever I am in Ohio to visit my parents. Even though I lived within an hour of the Hocking State Forest area trails when I was younger, I never used them for trail running. There are many trail areas that I never even knew existed!
Christmas 2014 was my second long trail run in the Hocking Hills. On my
inaugural run a couple of years ago
, I ran from Old Man's Cave to Ash Cave and back along the
Buckeye Trail
that travels through the state park and most of those trails were at least familiar from my younger years. This time, I wanted to explore parts of the Buckeye Trail that were new to me.
The Old Man's Cave parking area on State Route 664 makes a good starting point because of the heated visitor's center that includes working water and restroom facilities year-round. Note that some of the trails in the park are undergoing major maintenance and are currently closed or re-routed.
Based on weather reports I decided to do my run a few days before Christmas rather than trying to run on Christmas Day. It was cold but there was no real rain. I first ran north from the Old Man's Cave parking lot. There are some notes on finding the Buckeye Trail from this location below.
I ran the Buckeye Trail to the Hocking Hills Climbing and Repelling area parking lot which is about 3.5 miles one-way. If you just wanted to see the Climbing area, the parking lot on Big Pine Rd / CR 11 is going to be your best bet.
The Climbing area has some amazing rock formations: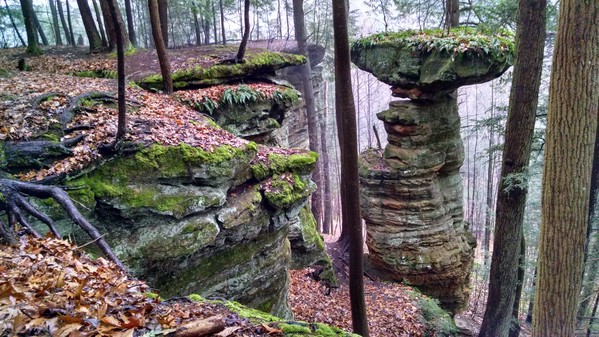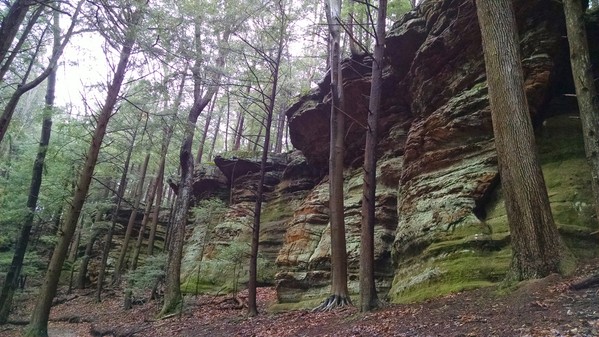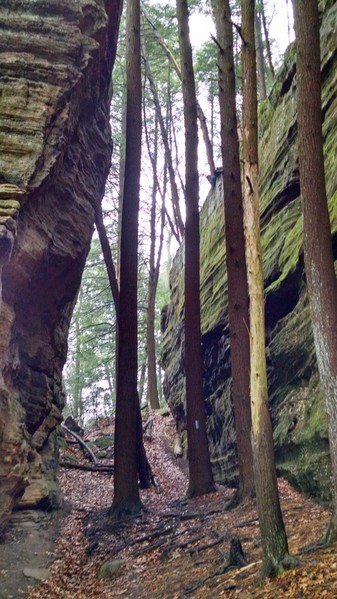 I had left some notes of my running plan with my parents, and even though I wanted to continue northward along the Buckeye Trail at this point, I followed my plan and returned to Old Man's Cave. My plan from here was to run to Ash Cave as I had on my previous visit. This time I ran "up top" on the Gorge Overlook Trail instead of down in the gorge along the creek due to the trail maintenance and closures.
Rose Lake was beautiful to look at.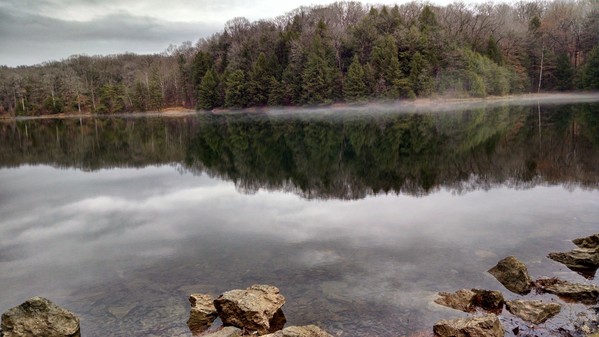 I suggest enjoying Rose Lake from the dam area and not by running around it on the shoreline trail. The trail is steeply cambered and not much fun.
From Rose Lake I made it to the fire tower: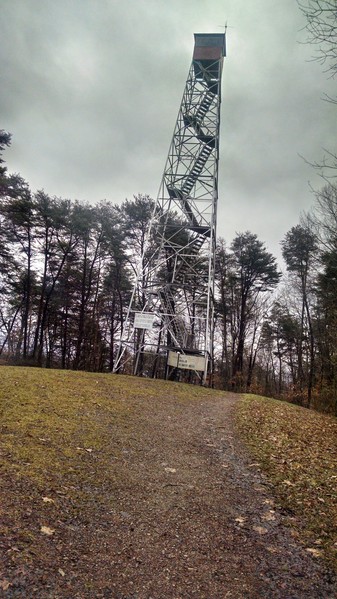 This time I took a picture at the top: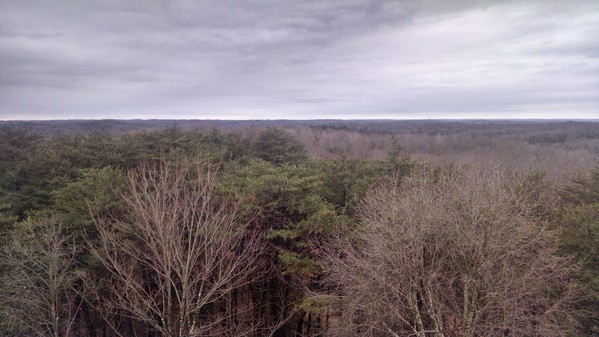 At this point in the run I was feeling a little tired and maybe a little sick (sore throat) so I decided to turn around at the fire tower and not continue onward to Ash Cave.
One of the sections of trail had recently been re-routed and was now covered with thick, sticky, mud. My Topo Athletic Oterro shoes held onto a lot of mud at first:
A few hundred meters later, much of the heavy mud had fallen off and overall the Oterro shoes did pretty well in the slick muddy sections: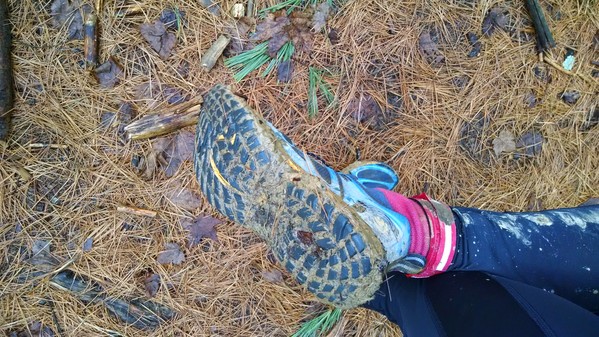 The motto of the Buckey Trail is "Follow the Blue Blazes" and I found a trail marker with many of the trail organizations and markers posted. Note that some of the blazes appear to be blue-grey or even just grey which made me question "Am I still on the trail?" a few times.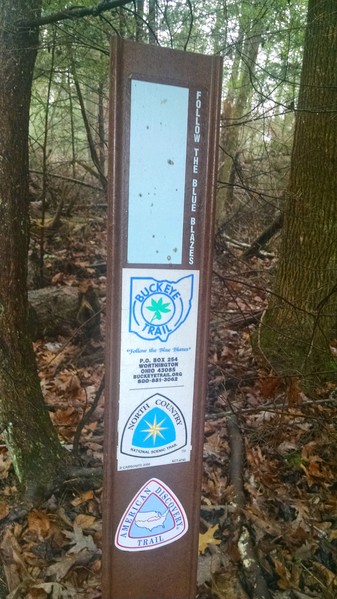 It is easy to pick up the Buckeye Trail north of the Old Man's Cave parking area by crossing 664 at Culp Road. The trail is labeled "Bridle Trail" and marked with blue blazes. Be ready for your first long hill climb immediately!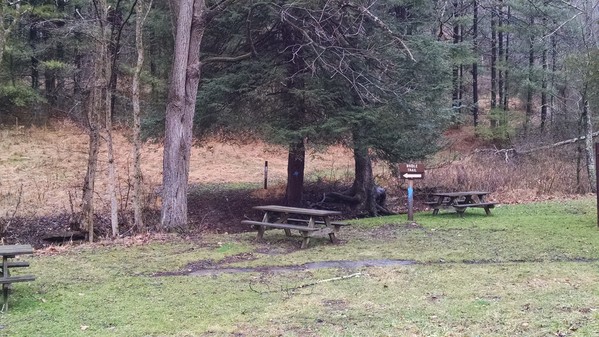 My total trip was 16.5 miles, from Old Man's Cave north to the parking lot of the Climbing and Repelling Area, then south to the fire tower and then back to Old Man's Cave.
Area maps are available for download at the
Hocking Hills web site
,
Hocking Hills State Park
, and
Hocking State Forest
.